"Manini" means "small" in Hawaiian. You might here someone say "Manini kine," or small thing. We still believe that small is good, no, better than good: Small is AWESOME. We ARE the small company that still cares. Max Brunk, with well over 15,000 dives, is your expert guide/instructor/safety fanatic who will guarantee you and small, safe and AWESOME experience, whether you are a first time diver or a veteran. SUBMIT YOUR REQUEST FOR YOUR TWO TANK, TWO SITE DIVE FOR INTROS AND CERTIFIED DIVERS HERE OR CHOOSE THE REGISTRATION TAB ABOVE! BOOKINGS ARE CONFIRMED AFTER WE RESERVE YOUR BOAT SEATS. BOOKINGS MAY NEED TO BE RESCHEDULED IF THE BOAT IS FULL. YOU WILL NOT BE CHARGED UNTIL YOUR BOOKING IS CONFIRMED.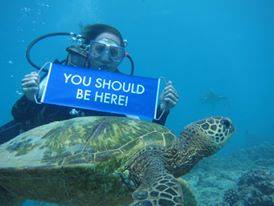 Introductory Divers–Dive to 40 feet and see our marine life! No Experience Needed–you are in the safe hands of Max Brunk, who has over 15,000 dives!
Click the photo below for details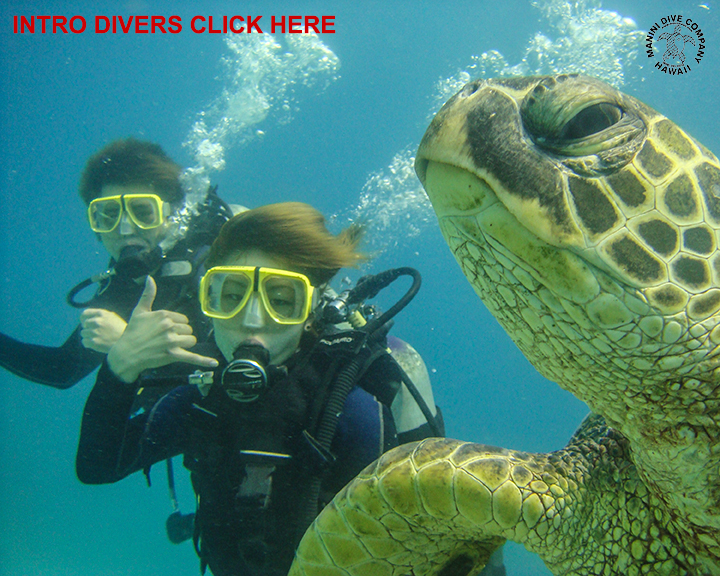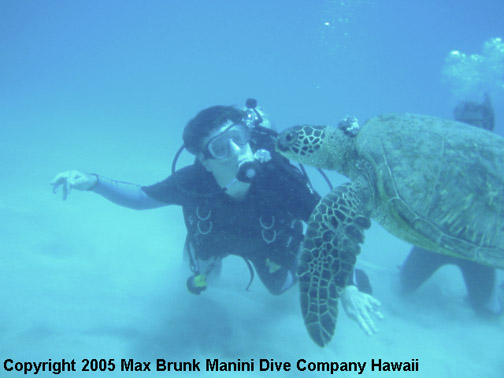 Introductory Testimonial: "I met Max by chance in 2001. I was visiting Hawai'i from Los Angeles (I hadn't moved here yet, but was seriously thinking about it) and Max had just started Manini Dive Company Hawai'i–it was a time of great change for both of us. We started talking and he said I had to try SCUBA diving on my next (already scheduled) visit. I looked at my canes (I have Cerebral Palsy) and asked him if he was serious. He was.  He believed in me when I didn't. Fast forward a few months and you can imagine the looks Max got from the Captain and Crew of the old "Dive Barge" as I hobbled down to the boat. Max shot them a look back that said "I got this!" It turned out to be a day that could very well have been cancelled–the current was RIPPING–but I did not know any better and had a blast. Max asked me if I wanted to do the second dive–"HECK YEAH!" We returned to the boat to the smiling admiration of the once doubtful Captain. Then…of course, I pulled my customary "face plant" on the deck as we were leaving the boat! The Captain gasped…I got to my knees, spread my arms and called out "SAAAFE!!!" I dove off the Barge a few more times before "graduating" to the Kahala Kai off of Waikiki. I have Cerebral Palsy. I am also a SCUBA DIVER with 11 dives to my credit thanks to Max and Manini Dive Company Hawai'i. By the way…Max was my Best Man at my wedding 12 years later!—Stephen Dantzig
Certified and advanced divers–Dive to 100 feet and see our shipwrecks
Click the photo below for details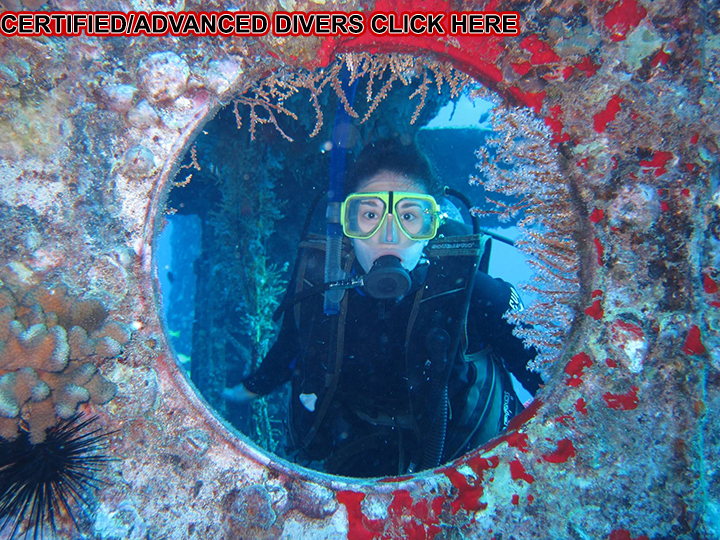 Certified Diver Testimonial: Unique Diving Experience! Seth A
March 25, 2017
Dive Sites: 5 STARS Staff: 5 STARS Safety: 5 STARS Equipment: 5 STARS Overall: 5 STARS
First time diving in the states, and it couldn't have been any better! Scuba Diving was on my to-do list while visiting Hawaii and Max was able to make it happen at last minute notice. He provided a fun and laid-back environment and set up the equipment to make the transition to the water effortless. Our first dive was on a double wreck, the YO-257, which was absolutely mesmerizing! I was able to practice my buoyancy by swimming through openings in both of the ships. The second was a reef dive that's shaped like a horseshoe. We saw SO many green sea turtles, and Max was able to find a baby octopus! Overall, It was a great experience and would book a dive trip again with Max.
PADI Open Water Certification Classes Available by Appointment. Email for information.
LOOK FOR OUR WHITE VAN WITH THE RED STRIP. FREE PICK-UP AND DROP–OFF AT MANY WAIKIKI HOTELS