SCUBA Dive off of Waikiki, Honolulu on Oahu Hawai'i with Manini Dive Company Hawai'i. Manini Dive Company Hawai'i is the award winning, TripAdvisor "Top 10" "Manini" SCUBA company that cares! "
Manini" means "small" in Hawaiian. You might here someone say "Manini kine," or small thing. We still believe that small is good, no, better than good: Small is AWESOME, especially when SCUBA diving.
Max Brunk, your SCUBA instructor for 20 years with well over 15,000 dives, is your expert guide/instructor/safety fanatic who will guarantee you a small, safe and AWESOME experience, whether you are a first time SCUBA diver or a diving veteran.
We recently received the award for the Best of Honolulu 2020 for Diving Services and Instruction!
Our Focus
Our goal and focus are to provide the opportunity for people of all ages and ability levels to learn scuba diving in a safe, fun, and fully-supervised environment. Max Brunk is an expert diving guide, and has been providing exceptional diving training for students for over two decades.
An ideal scuba instructor explains the correct technique, use of equipment, and safety protocols to all their students. In the scuba diving course, students start out with shallow dives, gradually increasing their depth as they gain confidence and competence as more experienced divers. Each scuba dive is carefully planned to provide opportunities for divers of all levels to see the amazing marine life located in the waters around Hawaii. We also have dive sites in the Oahu area, each designed for novice to advanced scuba divers.
PADI Certification
Manini Dive Company offers PADI certification for experienced divers. Our PADI Open Water Certification course is designed to allow students to complete the training in three days through small group, semi-private, or one-on-one training.
The PADI Advanced Open Water Course is a three-day training course that includes five dives and a fun dive. This scuba certification requires students complete a deep dive and a navigation dive, with three additional elective dives.
Our scuba certification and PADI courses near Honolulu are offered throughout the year. Students can book online to schedule their training.
As part of our introductory dive package, we supply all the equipment and gear you need. There is no need to have any prior dive experience to enjoy this amazing underwater adventure. Many of our novice divers love the experience so much that they come back to complete their PADI certification, making them licensed divers in depths of 100 feet anywhere around the world.
Introductory SCUBA Divers–Dive to 40 feet and see our marine life! No Experience Needed–you are in the safe hands of Max Brunk, who has over 15,000 dives!
Click the photo below for details
Certified and advanced divers–Dive to 100 feet and see our shipwrecks
Click the photo below for details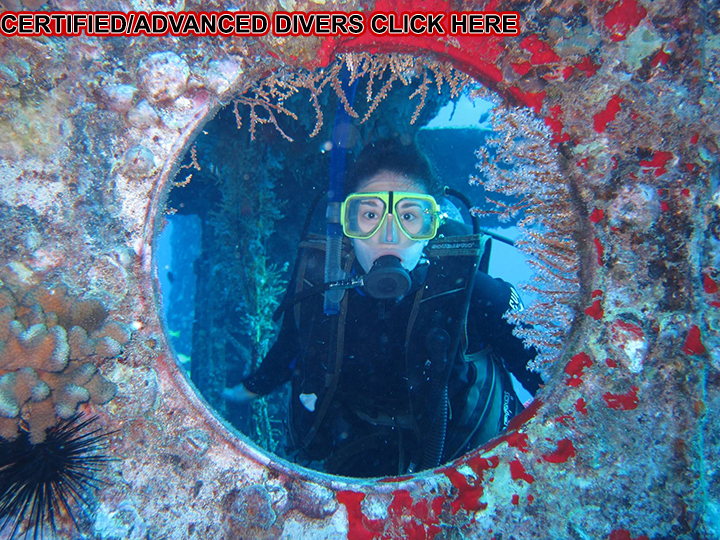 Certified Diver Testimonial: Unique Diving Experience! Seth A
March 25, 2017
Dive Sites: 5 STARS Staff: 5 STARS Safety: 5 STARS Equipment: 5 STARS Overall: 5 STARS
First time diving in the states, and it couldn't have been any better! Scuba Diving was on my to-do list while visiting Hawaii and Max was able to make it happen at last minute notice. He provided a fun and laid-back environment and set up the equipment to make the transition to the water effortless. Our first dive was on a double wreck, the YO-257, which was absolutely mesmerizing! I was able to practice my buoyancy by swimming through openings in both of the ships. The second was a reef dive that's shaped like a horseshoe. We saw SO many green sea turtles, and Max was able to find a baby octopus! Overall, It was a great experience and would book a dive trip again with Max.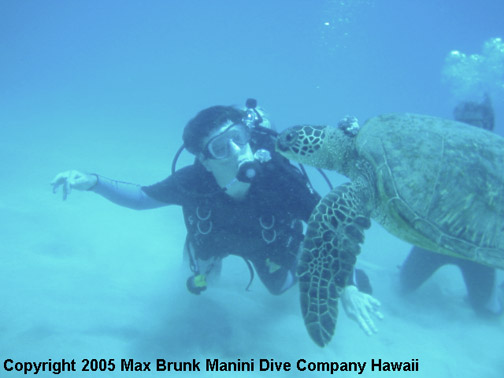 PADI Open Water Certification Classes Available by Appointment. Email for information.
SUBMIT YOUR REQUEST FOR YOUR TWO TANK, TWO SITE DIVE FOR INTROS AND CERTIFIED DIVERS HERE OR CHOOSE THE REGISTRATION TAB ABOVE! BOOKINGS ARE CONFIRMED AFTER WE RESERVE YOUR BOAT SEATS. BOOKINGS MAY NEED TO BE RESCHEDULED IF THE BOAT IS FULL. YOU WILL NOT BE CHARGED UNTIL YOUR BOOKING IS CONFIRMED.
LOOK FOR OUR WHITE VAN WITH THE RED STRIP AT KEWALO BASIN LOCATED AT 1125 ALA MOANA BOULEVARD. WE WILL BE AT PIER A SLIP A-1. OUR BOAT IS THE KAHALA KAI. TELL YOUR UBER OR LYFT DRIVER TO TAKE YOU TO KEWALO BASIN OR CALL US AT 808-291-0212 IF YOU NEED PERSONAL DIRECTIONS.