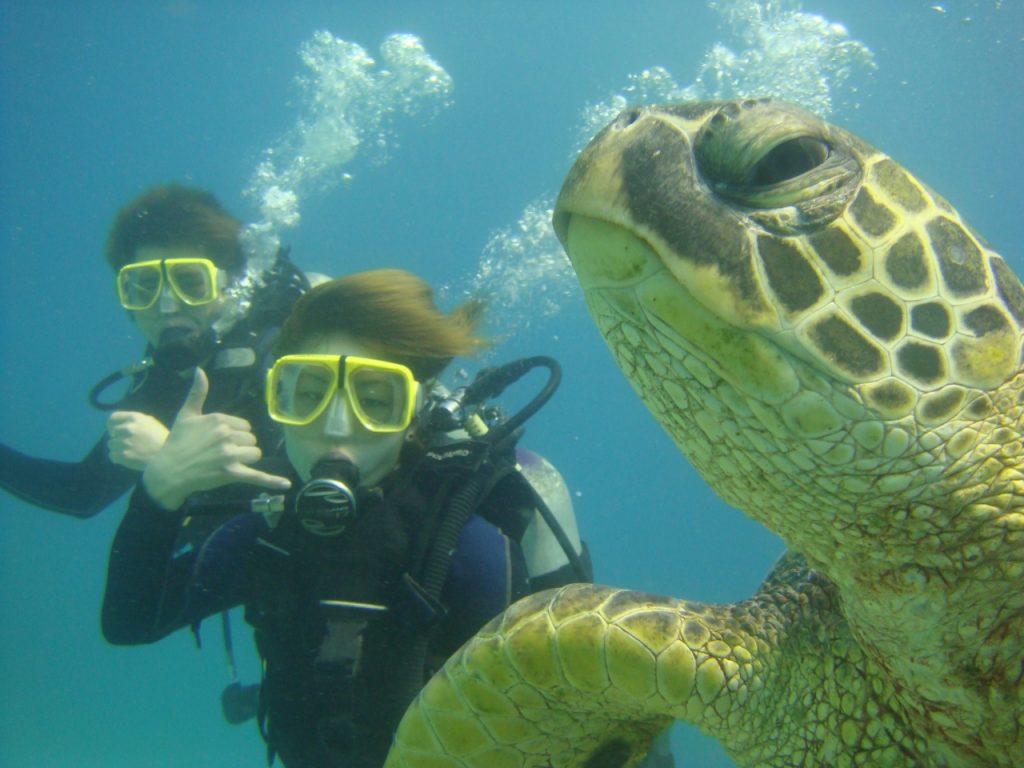 Visiting the stunning island of Oahu is a dream come true for many travelers around the world. Between exploring the natural Hawaiian landscape, sampling local delicacies, and experiencing island culture, visits to Oahu are usually full of exciting activities.
But if you stay above the surface of the ocean for your whole visit, you might miss out on the best part of visiting this tropical island—the spectacular marine life that is best viewed while scuba diving in Oahu.
The Breathtaking Sea Life of Oahu
It's no secret that Hawaii is home to hundreds of unique and colorful underwater residents below the deep blue waters of the Pacific Ocean that encircle the islands. But scuba diving in Honolulu and the surrounding waters of Oahu provides an experience like no other. Once down below, scuba divers can experience majestic open waters that include some of the most famous Hawaiian sea creatures:
Honu: Also known as sea turtles, these gentle creatures can be seen gliding through the water, but divers should learn how to keep a safe distance from the beautiful honu since they are a protected species.
Tako (octopus): These little charmers are fascinating to watch as they move through the water.
Monk seal: Often called the "puppy of the sea," these endangered but friendly animals are a treat to spot in the wild.
Whitetip shark: These safe but nerve-jangling creatures can very often be seen from a scuba diver's vantage point.
Hahalua (manta ray): Scuba divers can see the undulating ray swim with their wide fan-like fins. The largest manta ray recorded reached 30 feet across!
Fish: Thousands of varieties of fish are found off of Oahu's coast, including the bright yellow tang, the long trumpetfish, gorgeous varieties of parrotfish, the stunning triggerfish, and the surprisingly spiky Hawaiian turkeyfish.
Dive Certified: What Does It Mean?
One of the best ways to experience marine life in Hawaii is by learning to scuba with a PADI certification in Oahu from Waikiki's Manini Dive Company. Unlike snorkeling, in order to scuba dive, you will need to become certified to use the equipment, and the Professional Association of Diving Instructors, or PADI, is the gold standard of scuba certification. A PADI certification is recognized around the world and gives divers the ability to rent and use scuba gear and equipment without supervision.
PADI Scuba Dive Certification in Oahu
The process for getting PADI certification in Oahu involves five dives completed with a PADI-certified instructor on three different days for those new to scuba diving. The cost of certifications depends on the certification type and whether it's offered one on one or in a group. You can expect to pay between $425 and $750 to get certified. The following covers what to expect during the certification dives.
Day 1: Confined Water
The first day's dive practice is done in clear, shallow water. Students are given an Open Water Manual to study along with take-home quizzes to assess their growing knowledge.
Day 2: Open Water Dives 1 and 2
Students will review their dive knowledge gained from the first day and go over the quiz materials. Two different dives will take place on day two in deeper open water. Students will also be given PADI dive tables, which are charts that explain and quantify how many minutes a diver can stay underwater and under what circumstances. Dive instructors will help students learn how to use these valuable tools that are part of every diver's tool kit for safe scuba diving.
Day 3: Open Water Dives 3 and 4
On the final day of PADI certification in Oahu, you can expect two more open water dives and additional diving skills assessments. The previously reviewed quizzes will then be graded before the students take their PADI dive certification exam, the final requirement for securing PADI certification for scuba diving. Students will be given a temporary certification card at the end of day three, but a permanent card will be issued and mailed to be presented as PADI certification proof at all future dives.
Other Scuba Diving Certifications in Oahu
If you are an experienced diver, you can also become certified in other more complex scuba dive certifications. Some of the options available for scuba divers in the Waikiki area are:
Advanced PADI Open Water: This three-day course offered by Manini Dive Company teaches experienced divers to navigate with a compass underwater and requires students to participate in dives deeper than 60 feet (18 meters) while completing a knowledge review before and after each of the six dives.
Rescue Diver Course: A required course for those wanting to be a divemaster, the rescue certification provides training to help out in many kinds of dive emergencies.
Divemaster Course: This elite-level rated dive certification is required to be a PADI dive instructor.
Recertifying PADI Dive Credentials: Even though your PADI certification doesn't expire, most divers who haven't been scuba diving in a while choose to do a refresher course.
The Spectacular Sights of Oahu
Anyone who has peered at the magical underwater world can attest that scuba diving is an experience like no other on earth. Being properly trained and prepared to glide through schools of glistening fish alongside a graceful honu or nearby a thrilling white tip shark are all perks of being a PADI-certified diver.
Some of the dive sights you might visit on a scuba diving experience with Manini Dive Company are the Turtle Canyons near Waikiki, the Corsair wreckage in Maunalua Bay in East Oahu, the YO257 World War II wreck off Diamondhead, or even the man-made Sea Tiger shipwreck west of Waikiki.
Let's Get Started! Schedule Your Scuba Diving Certification Today
To take a turn underwater as a scuba diver, contact the professional, certified divemasters at Manini Dive Company and schedule your certification course. Classes can be structured as a private course involving one-to-one instruction with a teacher, a semi-private course for up to four students, or as a group course for up to eight students. For advanced certifications, courses will be scheduled and grouped as available.
Call us at 808-291-0212 or email us at max@mdchawaii.com today for more information about PADI certification in Oahu.